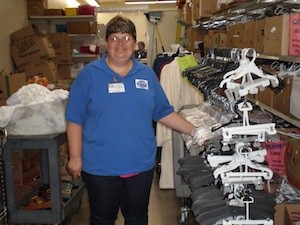 When an individual is ready to pursue independent and competitive work in the community, the Community Employment Team begins the process of assistance in choosing, obtaining, and maintaining employment of the person's choice. Our employment team will let individuals know of job openings, help complete applications, take individuals to interviews, and teach proper interviewing skills. We will also help everyone learn the bus and trolley routes to and from work. When individuals are hired by a business and ready to start their new job, the Unyeway Job Coach will provide participants with one-on-one support making sure individuals know their entire job related responsibilities. This support will be provided on and off the job. Individuals will be paid minimum wage or more by their new employer, and may receive benefits. Here everyone will become an important member of the employer's work team and will achieve their employment dreams.
Benefits For Individual Placement Services (IP) Include:
Turnover reduction – Unyeway, Inc. matches employers with the right employee for the job.
Reliable and dedicated employees – Employees demonstrate job skills and training required for the job
Each Employee works at least 20 hours a week and earns a competitive wage
Job coaching is free of charge – Unyeway, Inc.'s job coach is paid for by Unyeway, Inc.
Steady work force
Valuable employees
Positions Held by Unyeway, Inc. workers include:
Courtesy Clerks
Janitorial
Store Greeters
Store Clerks
Current IP positions include – Lowes, Home Depot, Defense Commissary Agency, VA Hospital, Target, Vons, Albertsons, Charlie Brown Child Care, Walmart.

For more information contact:
Kimberly Kelley
Director of Community Employment Services
(619) 562-8393