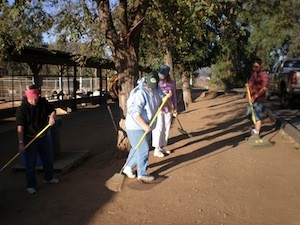 Individuals can work in the community with peers at a variety of different businesses who have partnered with Unyeway, Inc. Work is generally scheduled five days and 20-40 hours per week. Individuals will receive 100% supervision and guidance from their Unyeway Job Coach. Individuals will gain work skills such as, decision-making, independence, and leadership. Everyone will earn pay and wage increases based upon the quality of work and work quantity. The Unyeway Job Coach will provide hands on training so that each individual will learn all aspects of the job. This will help participants become experienced workers with the goal of placement in future job opportunities. The Group Services members receive ongoing support services both on and off the job.
Group Site Benefits For Our Local Business Partners Include:
Job Coach, paid for by Unyeway, Inc. providing 100% supervision at all times
Three to Five skilled workers to best meet your labor needs
Substitute Workers available in case of absenteeism
Cost effective and reliable source of labor
Workers' Compensation coverage provided by Unyeway, Inc.
Workers are assessed and matched with the right job to reduce your turnover
Quality work, satisfaction guaranteed
Unyeway, Inc. process' all payroll administration
Examples of Community Group Site:
Car Washing/Detailing
Retail
Warehouse
Janitorial
Grounds keeping
Nursery-Plant Care
Barn Yard Maintenance
Construction Clean-Up
Work opportunities include, car washing and detailing, retail, warehousing, gardening, litter abatement, janitorial services and recycling.
For more information contact:
Case Management
(619) 562-8393